We study the motion and transport of artificial microswimmers. One system of interest are superparamagnetic beads that align to form extended chains in an external magnetic field. If the field changes in amplitude and direction the magnetic chains can rotated and move. Pure rotation does not allow translational motion for symmetry reasons. However, if the rotations happens in the proximity of a boundary (wall) the symmetry is broken and translational motion is enhanced. Here, we are interested in the behavior of single chain rotors as well as in the collective behavior of multiple rotors.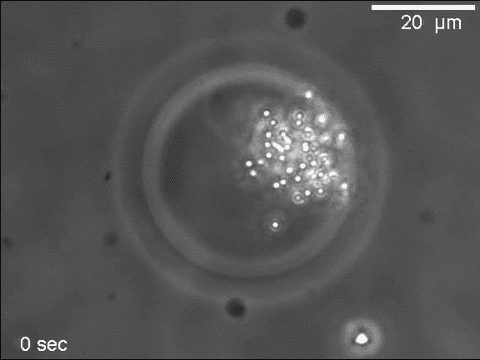 Magnetic Microswimmers
Sing, C. E., Schmid, L., Schneider, M. F., Franke, T. & Alexander-Katz, A. Controlled surface-induced flows from the motion of self-assembled colloidal walkers. Proc. Natl. Acad. Sci. U. S. A. 107, 535–40 (2010).
Franke, T., Schmid, L., Weitz, D. A., and Wixforth, A. (2009) Magneto-mechanical mixing and manipulation of picoliter volumes in vesicles. Lab on a Chip, 9(19), pp. 2831-2835. (doi:10.1039/b906569p)
Others
Burger, S., Fraunholz, T., Leirer, C., Hoppe, R. H.W., Wixforth, A., Peter, M. A., and Franke, T. (2013) Comparative study of the dynamics of lipid membrane phase decomposition in experiment and simulation. Langmuir, 29(25), pp. 7565-7570. (doi:10.1021/la401145t)